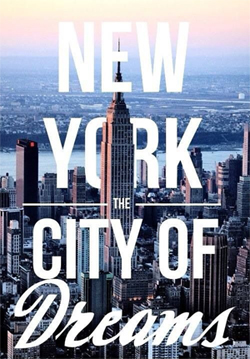 NEW YORK SPIRITUAL & METAPHYSICAL SHOPS
NEW YORK ... NEW YORK!
In April 2014 I traveled to New York, partly for feng shui work and partly for pleasure. During my two weeks in this vast Metropolis, I visited four great spiritual & metaphysical shops, which you might like to visit if you are going to New York. Located close to these stores, I also recommend a healthy food kitchen (tasty too) which is egg, dairy and gluten free, a funky cafe with free wifi, and a delicious cupcake bakery. Most of these spiritual & metaphysical shops don't open until 12pm (midday), so I suggest you follow my guided tour in the order that they appear here.
NAMASTE BOOKSHOP
2 W 14th Street, New York (cnr 14th Street & 5th Avenue) (212) 645-0141
(212) 645-0141
I visited this store around 11am, easily spending around an hour looking at crystals, dream catchers, tarot and oracle cards, books, indian feathers, jewellery, feng shui cures and more. Namaste is jam packed with lots to see and read. I fell in love with aromatherapy anointing oils, mists and perfume oils made in Arizona called Kate's Magik.
HU KITCHEN
78 5TH Avenue, New York (212) 510-8919 (212) 510-8919
It's time for lunch and just around the corner from Namaste is this great eatery. They have a huge selection of hot and cold lunch selections, a massive salad bar, organic & GMO free coffee, tea, smoothies and more. They are open for breakfast, lunch and dinner every day. Except for coffee milk, Hu Kitchen is dairy and gluten free, and they have many options without eggs.
ENCHANTMENTS
429 E 9th Street, New York (btw 1st Ave and Ave A) Ph: (212) 228-4394 (212) 228-4394
The outside of the shop doesn't do this place any justice (I think they need to hire a feng shui consultant), but it is quite magical inside. If you don't like cats, or you are allergic to their fur don't visit this shop, as I counted three cats sleeping in various spots around the store. They specialise in making custom carved candles for manifesting your intentions. They carve them with magical symbols, your name and astrological sign, and anoint them with appropriate oils. There is a magickal apothecary with blended oils, powder incenses and almost 200 herbs and resins. Enchantments also have a great range of magickal talismans you can wear as jewellery.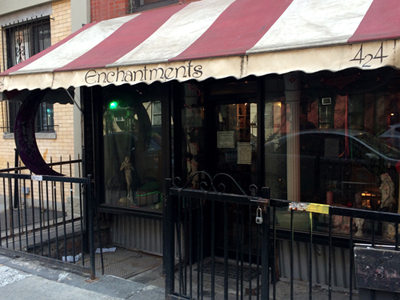 FLOWER POWER HERBS & ROOTS INC.
406 E 9th Street, New York (btw 1st Ave & Ave A) (212) 982-6664 (212) 982-6664
On the same street as Enchantments, Flower Power specialises in organically cultivated herbs, roots, flowers, leaves and seeds. Along with a large selection of dried herbs, they also carry herbal extracts, infused oils, perfumes, salves and ointments.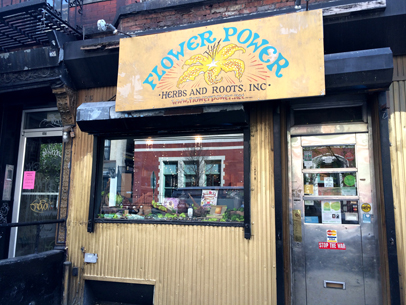 THE BEAN EAST VILLAGE
147 1st Avenue, New York (cnr 1st Ave and 9th St) (212) 432-2900 (212) 432-2900
Right about now you may be feeling like a cup of coffee or tea. A 5 minute walk from Enchantments & Flower Power (ask the staff for directions) is this coffee shop chain similar to Starbucks. On Trip Advisor the ratings are mixed, and I can't tell you how the coffee is as I had peppermint tea, but you can sit inside or outside on the sidewalk, the exterior artwork on this building is very cool, and the atmosphere is very New York! The Bean has free wifi.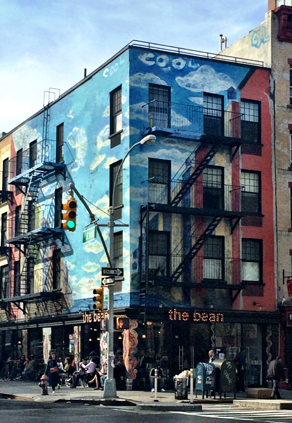 STICK, STONE AND BONE
111 Christopher Street, New York (btn Bedford St & Bleecker St) (212) 807-7024 (212) 807-7024
I found Christopher Street a bit difficult to find, and I was running low on energy, so I jumped in a cab from The Bean which cost me around $10 USD. Stick, Stone and Bone is a small shop with not much stock, but it does have some different items such as shamanic tools, artifacts, incense and resins, Native American jewellery and a small range of crystals and books.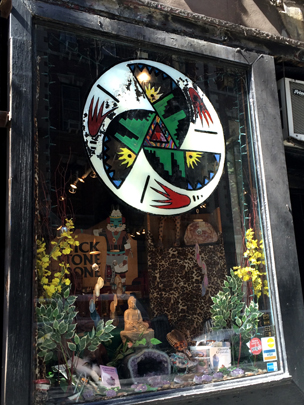 MAGNOLIA BAKERY
401 Bleecker Street & W 11st Street, New York (212) 462-2572 (212) 462-2572
Close to Stick, Stone and Bone and your final stop before you return to your hotel (it's late afternoon and right about now you will be feeling like a sugar fix). In fact, I believe no trip to New York is complete until you have had a Magnolia Bakery cupcake. They are the best cupcakes I have had anywhere in the world! Barney's New York department store think so too (660 Madison Ave), they now have their own Magnolia Bakery outlet.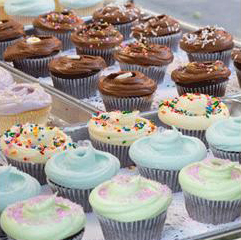 I hope you enjoyed my Feng Shui Newsletter! If you have any questions, please do not hesitate to contact Carol. For daily feng shui tips and inspiration, follow me on Twitter. I have also set up Feng Shui Forum on Facebook to answer general questions you or your friends may have about all things esoteric. Are you unsure what to expect from a qualified feng shui consultant during a feng shui consultation? Read my handy information page feng shui consultant.
Happy and safe travels! May the year of the Horse bring you peace and prosperity! Carol Partridge
Copyright (c) 2014 Sacred Feng Shui Design